THE ASI DIFFERENCE
Our team brings over 100 combined years of custom automated window treatment and innovative lighting control experience to every project. Plus, for over 25 years, our customers have also been our neighbors, and that is why we have a full understanding of your needs and what makes your home an exceptional place.
But that's not all. We are project leaders who instill trust and confidence in all we do. You'll find our products and creativity featured in luxury residential homes throughout Southwest Florida and the greater New York City region, including waterfront high rises and estates that showcase breathtaking views of the Gulf of Mexico, as well as apartments and lofts in the heart of Manhattan's most exciting neighborhoods
Just imagine the difference automated window treatments and lighting can make to your home.
Our Promise to You
At ASI we love what we do.  This shared passion enables us to provide you with the very best customer experience - 100% of the time. Our goal is to offer window treatments and lighting solutions that beautify your home and enhance your lifestyle.
 Our design and industry experts will:
Help you navigate the vast array of window treatment options and lighting control technologies
Work together with you to ensure you are provided with the perfect solutions to help bring your vision to life
Treat your space like it was our own, ensuring flawless installations and a commitment to quality in every detail
Deliver exceptional designs, smart, innovative technologies, and a worry-free process by overseeing each and every step.
Partnering with ASI offers everything you could have imagined . Our automated window treatments and innovative lighting solutions reflect the latest design trends and technologies, are energy efficient, and are tailored to your unique space, taste, and lifestyle. Our customer-friendly team combines visionary design with technological know-how to help you create the stage on which your life plays out.
Contact us today. We're headquartered in Naples, Florida, with offices conveniently located throughout the U. S.
April G. Kettelle
Owner, President & CEO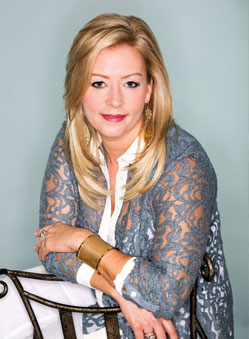 April began to develop Automated Shading & Lighting Control in June 2003. As CEO, she is personally certified in the design and technical integration of the many shade and lighting control systems executed by the company.
April has a diverse background in sales and marketing and business management. She completed a 3-year tenure at Arthur Anderson (now Accenture) in Chicago and developed her entrepreneurial skillset to become proficient in process improvement, client relations, and market research and development.
With a vision for growth in an industry known to many as small and unsophisticated, April has identified solutions for integrating window shading with the newest home automation trends and thus has become a pioneer in shade automation.
In 2011, she took her forward-thinking innovations a step further by introducing lighting control products as an additional offering to ASI's clientele to create "The Perfect Marriage" of product lines.
By integrating these two systems, ASI is the sole source of top quality-programmed home lighting and shading control services for our clients.
April has accelerated ASI's growth and profitability without sacrificing competitively-priced solutions by implementing processes that achieve more in less time, with significantly fewer errors.
The results have been dramatic, with a solid infrastructure replicated in four markets nationwide.
April's ability to turn an old-fashioned, analog business into a modern, technology-driven operation while broadening neighborhood relationships has powered ASI into an industry leader.
Credentials
Lutron Black Diamond Dealer

Lutron Certified Programmers

CEDIA Certified Designers

Somfy Expert Certified Dealer

QMotion Certified Dealer

Hunter Douglas Priority Dealer

Mecho Shades Dealer
Industry Memberships
ASID Member

CEDIA Member

WCAA Member

IDA Member