Quality brands for the ultimate user experience
The technology behind your automated window treatments and lighting control solutions is only as good as the devices that allow you to control them. We partner with best-in-class brands that are renowned for unsurpassed quality, advanced technology, convenience, and simplicity.
Your home has to be designed to complement your lifestyle as needs change throughout the day, your lighting should adapt as well; bright for reading or cooking, and dim for a relaxing evening or working on your computer. Lutron's full range of solutions provides convenient and intuitive access to your light and window treatment control.

You don't need multiple remotes just to watch television, or a wall filled with switches and knobs that takes you 3 tries to find the right light. Take control of your home with just one button press from a sleek Crestron touchpanel, designer engraved keypad or your iPad™, iPhone® or iPod® touch. Select a movie to watch or music to enjoy from your favorite chair. Adjust your lights, shades, temperature and check on your alarm system without getting out of bed. The comfort and convenience of the ultimate technology lifestyle can be yours. The possibilities are endless, whatever you can imagine Crestron can do.
MOTORIZED BLINDS & SHADES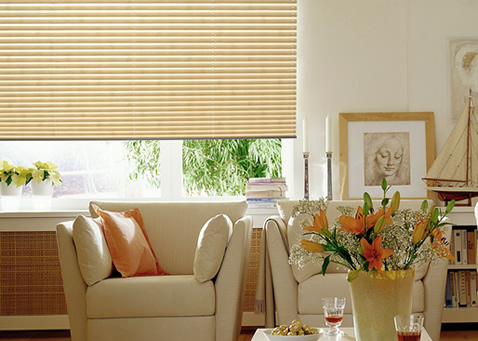 QMotion Advanced Shading Systems combine top-notch technology with trend-setting fashion and design. QMotion sets new standards of excellence with shading that is powered by either low voltage power or batteries that are easily accessible inside the shade tube. The results are elegant automatic window treatments that provide virtually silent operation.
Well-designed window fashions do more than simply cover a window. At Hunter Douglas, form and function are inseparable. Their window treatments are beautiful to live with, provide variable light control, insulate rooms against heat and cold, save energy, and protect your furnishings from damaging UV rays. Hunter Douglas window treatments even absorb sound, and the advanced operating systems makes using their products a breeze.
Founded in 1969 with the original MechoShade® window-covering system, MechoShade has evolved into an organization committed to providing uncompromised sun protection. Their most popular lines include their ElectroShade and MechoShade lines. Their automated shading systems have revolutionized energy conservation with automated or manual shade options in all shapes and sizes.
You'll be inspired by the innovative collections and advanced system solutions from Coulisse, a leading international supplier of window coverings for custom products and DIY clients since 1992. Their product range, which includes roller panels, vertical blinds, wood blinds, Roman and pleated blinds, provides endless possibilities to meet our clients' unique needs. Whatever your taste, style or window type, they have the solution to match your needs.
CONRAD Original Sunshades combine the look of ancient art with the convenience of modern technology, to create contemporary classics preferred by designers and architects worldwide. Drawing inspiration from the natural world, their designs have set an industry standard since the company was founded by Edie Conrad in 1956. They help ASI enhance the beauty of any home with hand-crafted products ranging from Roman shades to contemporary sliding panel shade systems.
Hartman & Forbes is defined by a spirited passion for nature. Fusing form and function, they use organic materials that bring warmth and fluidity into modern interior spaces. All their window and wall coverings are carefully designed to adhere to their four core pillars: progressive design, renewable materials, hand-crafted quality and commitment to sustainability.